OCL testing
Eurailtest performs online tests and simulation to check the Overhead Contact Line (OCL) behaviour and the pantograph / OCL interaction.
3D Simulation of the pantograph-OCL interaction
Optimizing current collection and the various components.
Tests objectives :
Model all types of OCL system and pantographs
Develop and optimize OCL or pantographs
Validate systems during the design phase
Provide effective and cost-efficient solutions in order to improve current collection quality
Propose solutions to improve infrastructure and rolling stock components
Provide customers with the simulations required for certification of interoperability components as defined in the Technical Specifications for Interoperability
Tests facilities :
OSCAR® software developed by SNCF (EN 50318 certified)
Testing norms :
NF EN 50318 – Current collection systems – Validation of simulation of the dynamic interaction between pantograph and overhead contact line
NF EN 50367 – Current collection systems – Technical criteria for the interaction between pantograph and overhead line (to achieve free access)
OCL uplift
Checking that overhead contact line uplift is compliant with the standards in force.
Tests objectives :
Check compliance with the criteria regarding contact wire uplift caused by the pantograph, in accordance with requirements mentioned in the interoperability standards and directives
Measure and record uplift of the contact wire whildue to passing trains
– On various rail networks: 25 kV AC, 15 kV AC, 3 kV DC and 1.5 kV DC
– On 2 adjacent tracks
– Up to 4 consecutive masts per track
– In both traffic directions
– Up to V = 350 km/h
– With an accuracy of under 5 mm
– In all weather conditions (rain, fog, snow, etc.)
Measure meteorological parameters at OCL level: Wind speed and direction, humidity and temperature
Tests facilities :
"Catiris" measuring station
Potentiometric uplift sensors
Insulating arms for connection with contact wire
Surge devices
Reference power supply
Data acquisition system (installed within 500 m from sensors)
Testing norms :
NF EN 50317 – Current collection systems – Requirements for and validation of measurements of the dynamic interaction between pantograph and overhead contact line
NF EN 50119 – Fixed installations – Electric traction overhead contact lines
Conventional rail ENE TSI
High-speed ENE TSI
LOC & PAS TSI
Dynamic monitoring of the overhead contact line
Overhead contact line geometry must be checked on a regular basis to avoid potential incidents. Our system can be placed on any flat unencumbered surface on the rolling stock roof and can be used to check contract wire geometry throughout the trip.
Tests objectives :
The system measures overhead line height and stagger using contactless technology
Tests facilities :
• Measuring system to detect the position of the overhead line (maximum two wires)
• Camera to locate the position of the masts
• GPS and radar to correlate measurements and locations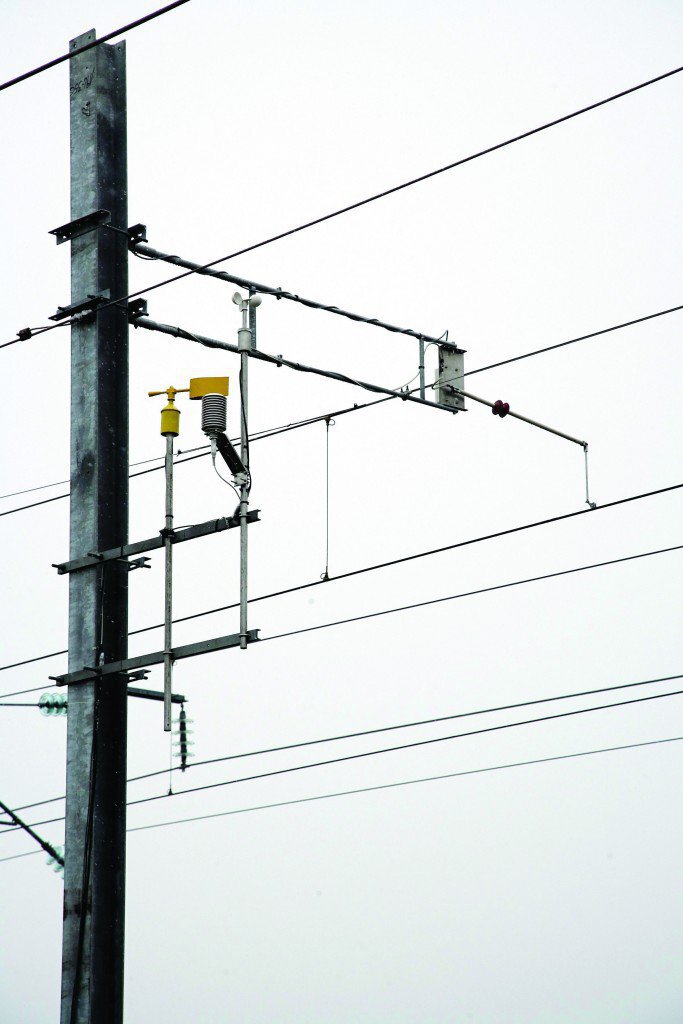 I should like to be contacted.
Please complete the contact form. One of our engineers will be in touch with you as soon as possible.
Go to form
Our references
ALSTOM
ATKINS
BOMBARDIER
CFF
INEO
NETWORK RAIL
RATP
STADLER
SETRAM
SNCF-RESEAU
STEMMAN
The following products may be of interest to you