20 December 2021
A New Test Includes the AEF's COFRAC Accreditation
To better meet our customers' needs, our partner laboratory, the SNCF Voyageurs' Railway Test Agency (AEF), has developed an agile method for measuring and assessing overhead contact wire uplift as the pantograph moves along it. This method was recently recognised by COFRAC, in compliance with ISO 17025, and includes the AEF's COFRAC accreditation No. 1-6879.
The Importance of Measuring Overhead Contact Wire Uplift
Measuring vertical uplift of the overhead contact wire as pantographs move along it forms part of the technical criteria to be checked when testing pantograph/OCL interaction. This test is performed to verify that the criteria for contact wire uplift caused by the pantograph are observed, in compliance with interoperability standards and directive specifications, either for:
The type approval of electric rolling stock on national networks,
TSI certification (Technical Specifications for Interoperability) of overhead contact lines or for verifying their installation.
In addition to measuring contact wire uplift, the AEF's teams of experts also measure meteorological parameters (wind, temperature, relative humidity, etc.) with the aid of dedicated stations. These measurements help to monitor the feasibility of tests under acceptable and representative conditions, namely not during heatwaves or heavy wind, etc., which might affect the results of pantograph/OCL interaction.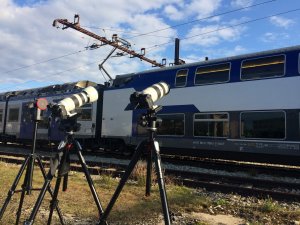 What are The Benefits of This Method?
This service is based on measurements taken trackside, away from hazardous zones. Since no direct intervention is needed on the track or OCL, there is no interruption to railway traffic. Technical preparation for this type of intervention is quick and the positioning of these measurements can be modified in accordance with the required parameters (running speed, OCL height, etc.).
Recognition of The Value of This Measurement
COFRAC certification No. 1-6879 defines our partner laboratory's capacity to provide high quality measurements for its trackside tests to validate rolling stock and overhead contact lines and ensure the safety of the railway network.
This accreditation demonstrates the technical competence of the AEF and is a guarantee of quality results, expertise and experience, building trust and cooperation between laboratories and other bodies both nationally and internationally.