21 September 2020
Monitoring and reduction of micropollutants in facilities classified for environmental protection (ICPE)
 Maintenance centres, industrial sites and, more generally, all facilities classified for the protection of the environment (ICPE) and subject to authorisation must apply strict regulations with regard to searching for and reducing emissions of hazardous substances to water (RSDE regulation).
The Framework Directive concerning water and the related European directives set out a certain number of targets which must not be exceeded. 45 hazardous substances in particular must be monitored. Industrialists are required to implement measures to search for, monitor and reduce emissions of these substances themselves.
Approach for the identification, monitoring and reduction of hazardous substances
Accurate measurements and inspections are necessary to apply this regulation. Our laboratory, the Railway Test Agency, has developed an approach to implement the applicable regulations and ensure compliant results.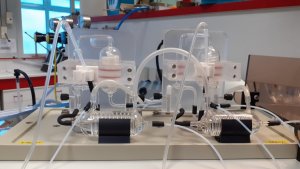 The approach has been applied to ICPE classified maintenance centres subject to authorisation:
Initially, monitoring and sampling campaigns were conducted in 17 maintenance centres to characterise the micropollutants emitted by each site. These campaigns, initiated by the Ministerial Order of 2009 (second RSDE action) led to the drafting of a guideline and generated reports and feedback.
In particular, these campaigns allowed the identification of micropollutants of interest to be monitored in emissions. Two criteria were selected for this purpose: the occurrence (number of times the substance has been quantified) and the concentrations of the substances in emissions. During the third RSDE action, initiated by the Order of 2017, 23 substances were selected, measured and monitored in 32 maintenance centres. The measurements are compared to those obtained during the previous campaign to establish patterns of change according to the industrial processes.
The origin and source of these emissions are then investigated in order to introduce actions to reduce or eliminate them, by reducing emission at source and/or applying specific treatment.
Eurailtest, with the Railway Test Agency, is able to support and advise facilities classified for the protection of the environment on all the processes to search for and reduce substance emissions into water in line with the various developments in the RSDE regulation.