4 October 2021
The Train that is Revolutionizing Railway Maintenance and Safety
Called the IRIS 320 for Inspection Rapide des Installations de Sécurité (rapid inspection of safety installations), this TGV scrutinizes the railway network's high-speed line (LGV) infrastructure, travelling at a top speed of 320 km/hour every two to three times a week to ensure the safety of passengers and regularity of trains.
At the controls of this revolutionary train is our partner laboratory, the Measurement and Test Department (DGII ME),in charge of developing and maintaining the on-board measuring systems as well as the post-processing of all measurements generated by this trainset.
The IRIS 320 Train is One of a Kind
The IRIS 320 differs from other inspection trains in that it can be slotted easily into traffic without disrupting commercial TGV schedules. It can inspect more than 160,000 km of track per year in total.
A veritable laboratory on wheels, the tables and seats have made way for computers, sensors, cameras, detectors and antennas for monitoring different aspects of the infrastructure in real time, such as the track, signalling, OCL and telecommunications. More than 75 sensors and 17 measuring systems are installed on-board this trainset.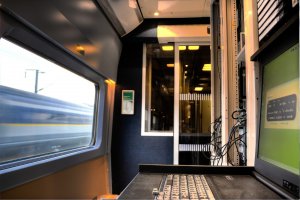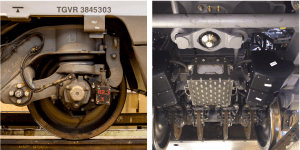 Guardian of The Network, Keeping The Rail System Safe
Most of the measurement systems on-board the IRIS 320 have been developed in-house by SNCF RESEAU. The DGII ME teams are responsible for maintaining these measuring systems (computer equipment and software). The trainset itself is maintained by SNCF VOYAGEURS at the Landy technicentre.
All measurements recorded by the sensors are collected in a centralized computer system on-board the trainset. This computer system comprises a data acquisition chain, servers and operator workstations. It is constantly monitored by five operators in real time. In the event of an anomaly, the operators send data charts to the supervisory centre so that the maintenance team can take the necessary corrective measures.
Once collected, the measurements are analysed using ULTRAPOT software installed on-board the train and developed in-house by DGII ME. Teams of experts use this software to make a quick analysis of the data, checking the validity of the measurements, sending out alerts and exporting the measurements to a national platform. Once received, these readings are checked and validated again before being sent to national databases to help the maintenance provider organize and establish the daily maintenance operations needed to address any defects and anticipate how these might evolve.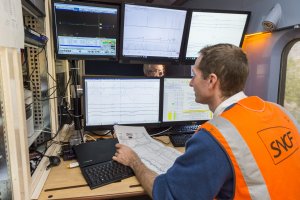 ULTRAPOT is Not Just Used for The IRIS 320
Numerous versions of the ULTRAPOT software have been developed over the years, constantly expanding its analytical capabilities, to help production workers deliver high-quality measurements and assist experts analyse specific issues encountered during measurement campaigns.
The software is not just used to process data from the IRIS 320. It is also the central processing hub for measurements taken by inspection trains on traditional lines (Mauzin cars, ESV trains, Eurailscout SIMs and UFM160s, etc.) and is used to assist companies wanting to check the reliability of measurements taken by their own vehicles, thanks to its commercialization by SNCF Réseau.
DGII ME's in-house management of this software is a guarantee of competent and expert performance, responding quickly to new requests, to adjustments needed to incorporate new measurements and tools, and to accommodate any changes in standards, as well as meeting specific customer needs.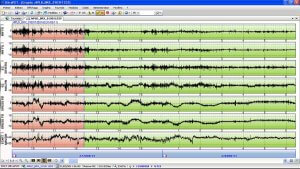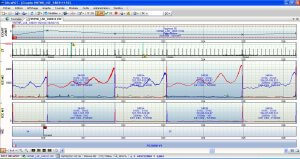 Inspections Beyond SNCF Lines
Since the IRIS 320 was commissioned in 2007 and the ULTRAPOT software was developed, Eurailtest and the DGII ME laboratory have shared their expertise and command of the software on several occasions, working in environments outside the national rail network with Eurotunnel, OC'VIA (Nîmes-Montpellier bypass operator and maintenance provider) and MESEA (Tours/Bordeaux high-speed line operator and maintenance provider).
The Eurailtest and DGII ME teams provided tailored services to meet the needs and specifications of these individual customers, including : specific parameters for inspection, processing times, supply of deliverables, expert advice, and adapting the ULTRAPOT software to each project, etc.
 DGII ME's expertise is again demonstrated through the effectiveness of its teams and their ability to work and export their knowledge abroad.