Window test bench
With its many different test rigs and test benches, AEF is well placed to perform a wide range of experiments to test the various parts used in making windows.
Tests at the service of safety and maintenance
With today's ever faster, lighter and bigger vehicles, the loads exerted on their front and side windows have increased.
As train speeds have risen, so have the aerodynamic effects and this factor has been further exacerbated by the fact that, for reasons of design and comfort, vehicle windows nowadays are increasingly large. In addition, to optimise vehicle weights, it is often necessary for the manufacturers of glass and window frames to adopt lighter materials or reduce the thickness of the glass.
It is, therefore, important better to understand how vehicle windows behave, in order to spot any eventual defects and ensure the longest possible life cycles.
The challenges are enormous for, apart from the risks to the individual, broken windows or sealing defects interfere with the normal running of a vehicle and are a major maintenance cost item.
A range of tests at the service of its customers
With its many different test rigs and test benches, AEF is well placed to perform a wide range of experiments to test the various parts used in making windows.
These tests include:
Pressure variation test: this reproduces the pressure variations caused in windows by crossing trains.
Soft body impact test: this offers a way of simulating the non-ejection of a body from a vehicle.
Structural joint strength test: this is a method for testing the cohesion of the adhesive by means of which the panel is secured in its frame.
Sealing test: to check that the glass is properly sealed within its frame.
In addition to these tests, with the assistance of its partner laboratories, AEF can also offer climatic ageing tests on windows or other vehicle parts.
However, tests are not enough to ensure a successful service that entirely fulfils its purpose. The whole preparatory phase and the measures conducted during tests are also an essential part of the process.
Test preparation
AEF and its design office offer clients a service consisting of designing and producing interfaces for fixing the window panes to the test rigs. The biggest windows that the test rigs can accept measure as much as 1600 mm x 1200 mm, irrespective of whether they are curved or flat. It is also possible to examine made-to-measure solutions for even larger panes.
In addition, in order to test the actual window fixing system, it is also possible to test windows attached to part of the bodywork structure. Here again, AEF can offer a wide range of assembly facilities.
Not only are tests possible on side windows: they can also be conducted on the windows of the driver's cab (front, side) and those of access doors, etc.
Where pressure signals are concerned, these may be square, triangular or sinusoidal in form. At special request, AEF is able to study and simulate these different forms. Pressure amplitudes range from -8000 Pa to +8000 Pa with gradients of as much as 200,000 Pa/s.
Finally, AEF is currently installing the necessary facilities to be able to conduct tests in accordance with UIC-566. In other words, it will soon be possible to spray the outside of the window and measure deformation in the pane during pressure variation tests.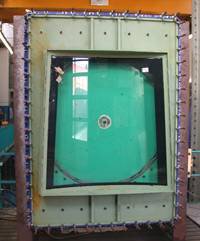 Test realisation
AEF can propose various types of measurement. Naturally, pressure tests are conducted when pressure variations are measured and, in the case of insulated windows, AEF can even determine the condensation point temperature. In addition to these conventional measurements, it can also measure deformation in the panes or movements in the frame during pressure variation tests.
If the client so requests, further measurements can also be envisaged, for example the stresses in window frames or accelerometer measurements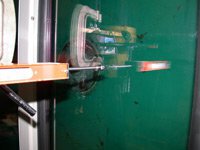 Investment in the customer interest
Train running conditions, high speeds in particular, have substantially increased the duration of all the requisite tests. In order to be able to respond to demand on the part of its clients and demonstrate maximum responsiveness, AEF has decided to invest in a second test rig scheduled to come into service at the end of 2010. This adjustable rig will be similar in characteristics to the present model.
In parallel with this investment, AEF has also decided to broaden its range by conducting tests according to UIC-566. The service should be operational in time for the end of 2010. For AEF, it marks its firm intention of being able to bid for foreign contracts.
Clients include
AGC FLAT: Negative pressure tests on window glass
ISOCLIMA: Ageing tests on windows of SECUR type
AGC FLAT: Tests on window glass of TGV Duplex
SESSA KLEIN: Window glass for RGV 2N2 (TGV duplex new generation)
SEKURIT Pologne: Window glass for AGC
BARAT: Tests on window glass AGV Pegase
DIAZ: Tests on curved window glass according to NF 31-314
GLAVERBEL SENEFFE: Tests on window glass in normal or downgraded mode on large flat window of TGV Duplex