5 September 2022
Lubricants and Their Essential Role in the Railway Industry
Unscheduled work and failures can incur heavy costs. To alleviate such issues, the railway industry places strict demands on railway equipment and infrastructures.
Many lubricants are used onboard rolling stock and in railway infrastructures to ensure optimum performance. These lubricants, comprising both oils and greases, help to extend the useful life of equipment by addressing problems such as the friction, wear and corrosion of surfaces in contact with one another. They help to preserve the performance of components via their many functions, such as maintaining air/water tightness and removing heat and impurities.
The longevity of their particular function depends directly on how the physico-chemical characteristics of the lubricant are maintained over time and on the quality of associated maintenance.
Lubricants used in different equipment
Around 300 lubricants are used for different applications. We distinguish between oils and greases, each of which have their own specifications and particular use.
We can find them in train driver seats, windscreen wipers, onboard power transformers (for electrical insulation) and in infrastructures on the wheel-rail contact, for example.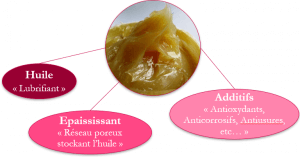 Use of an unsuitable lubricant or a lack of lubricant has financial, safety and environmental implications
Each lubricant is designed for a specific purpose.
Over time, the physico-chemical characteristics of lubricants change and become degraded. These characteristics are intrinsically dependent on operational stress (speed, component temperature, etc.), external pollution, variations in temperature, mechanical stress (impacts, vibration, loads), and on the maintenance they receive: grease or oil change, component removal and top-up potential (frequency, quantities added).
A lack of lubricant or use of one that is unsuitable can result in the lubricant's oxidization or cause wear, component breakage and even a fire, etc.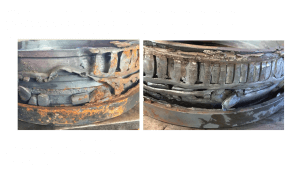 The requirements that lubricants must meet?
Different types of lubricants serve various needs:
Maintenance, by optimizing the rolling stock maintenance plan
Financial, by optimizing the different lubrication steps and the potential or useful life of the lubricants
Environmental, by encouraging the use of biodegradable or eco-friendly lubricants as much as possible
Safety, by protecting components from failure or breakage, from a simple breakdown to a train derailment.
In order to meet customer requirements and monitor the quality of a lubricant, our partner laboratory, the Railway Test Agency (AEF), offers four types of solutions. These can be provided as a complementary service or separate from the lubricant considered. The laboratory offers solutions in-house at the SNCF or at the premises of other international railway operators.
Tests developed by the AEF, often as a complementary service: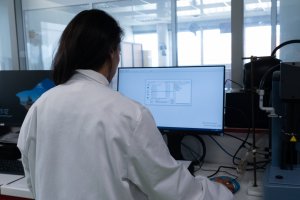 It is usual to monitor oils and greases in a laboratory environment and involves identifying the physico-chemical characteristics of the lubricant, bringing to light any possible degradation and providing corrective action. AEF experts have access to various advanced tools (microscopy, chemical composition analysis, consistency and viscosity measurements, performance measurements and pollution detection, etc.) to diagnose a product's lubricating power.
Maintenance centre analysis
The AEF has developed and rolled out methods for employees to perform analyses at maintenance centres. They can use X-ray fluorescence, for example, to quantify wearing metals, or take acidity measurements via infrared spectroscopy, etc.
The AEF teams offer daily assistance to the various maintenance centres to:
Research and roll out new analytical tools
Draft procedures
Provide standards for checking their analytical tools
This involves monitoring a lubricant's characteristics using onboard sensors to detect any degradation in lubricant/component couplings to reduce workshop returns, component failures and associated delays.
This form of monitoring is used to model the changes in certain physico-chemical characteristics of lubricants based on the knowledge acquired on stress that can affect them (temperature, load, speed, pollution, etc.).
Predicting a lubricant's characteristics helps to optimize maintenance operations and the lubricant's potential based on its use, as well as to optimize costs.
Railway Test Agency expertise
The Railway Test Agency offers several solutions for lubricants under the COFAC-accredited NF EN ISO/IEC 17025 standard.
1/ New product qualification tests:
-measure a grease's worked or non-worked penetrability at ambient or low temperature (COFRAC);
-measure a grease or oil's moisture content (COFRAC);
-measure a grease's dropping point (COFRAC);
-measure a grease's storage stability;
-measure a grease's dynamic dye penetration (COFRAC);
-measure a grease's resistance to impacts and vibration on the ROPECS and V2F test rigs;
-assess a grease's lubricating power and performance at high temperature on the R2F test rig;
-measure an oil's viscosity at different temperatures;
-measure an oil's acidity.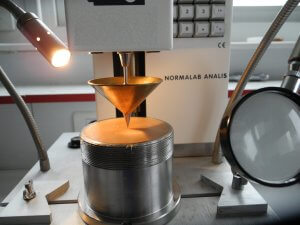 2/ Failure analysis: identifies any degradation of the lubricant and performs an expert analysis on its remaining lubricating power. It measures component wear by identifying wearing metals.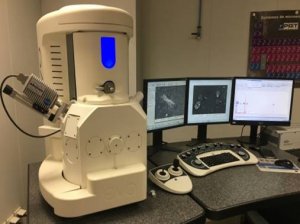 3/ Extending life potential: establishes the condition of a lubricant at different steps to assess and optimize its maximum useful life.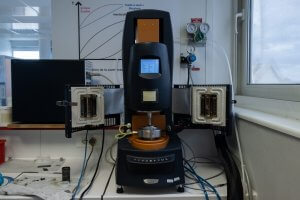 4/ Maintenance support: by developing on-site analytical tools (e.g. X-ray fluorescence at TGV Technicentres to monitor the wear of transmission components)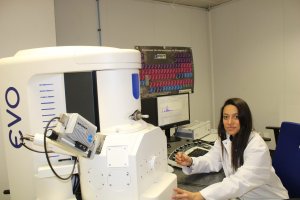 The Railway Test Agency's teams are involved in monitoring everything related to lubricants to ensure that their customers' financial, maintenance, environmental and safety needs are met. The AEF laboratory draws on its experience to offer tailored services to ensure 100% customer satisfaction.
We wish to thank the AEF experts for their commitment and their expertise.