16 October 2019
Focus on the 20th Anniversary of Key Partner AEF
On 26 September 2019, Eurailtest was delighted to take part in the events organised in celebration of the 20th anniversary of our partner, the Railway Test Agency (AEF). AEF is a leading player in the railway test and expert analysis fields. The programme of events was rich and varied, a chance for our clients to take the full measure of the breadth and scope of AEF skills and know-how through site visits, talks and information stands.
AEF and its European influence
Located south of Paris in Vitry sur Seine, the Railway Test Agency can boast all the scientific and technical resources and skills for conducting tests or performing expert analyses on railway systems. It offers a variety of services with regard to safety and the transport environment, air quality and noise measurements. Its roles also include developing tools for the use and convenience of its clients.
Over recent years, AEF has been involved in a large number of international projects, carrying out a range of type approval tests on the new Moroccan high-speed line as well as line tests in France and abroad.
At the same time, it has also been very busy on local projects: type approval of the South Europa Atlantic and Brittany Pays de Loire high-speed lines and the Nimes Montpellier bypass, not forgetting rolling stock type approval procedures, for example Regio 2N.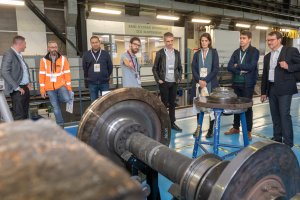 AEF in figures
20 years of experience at its Vitry Sur Seine premises, where it has amply proved its worth in railway circles.
AEF in figures:
250 employees
15,000 measuring systems and devices
1,000 services provided per year
10 million km of test train runs in 20 years
15,000 test reports since 1999
17 patents lodged since 1999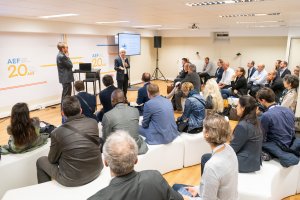 Future challenges
AEF is constantly working to enhance its product range and extend its test services better to meet its clients' needs.
New digital solutions, such as simulation, are being developed to provide even more accurate results at ever lower cost.
For 20 years, Eurailtest and AEF have worked together on the basis of a strategy tailored towards offering services suitably adapted to client needs while driving down client time to market and product type approval costs.
© Philippe Fraysseix –