29 November 2021
Manufacturer Schweizer Electronic Calls on the AEF to Validate its Radio Warning Device
Eurailtest and its partner, the Railway Test Agency, have been commissioned to qualify and validate a Radio Warning Device (DAPR) for SCHWEIZER ELECTRONIC.
This audible unit is a warning device positioned along the track to alert workers on site of a possible approaching train. The device comprises a sound and light system that can be positioned trackside and on railway vehicles with the aid of a magnetic wall.
These warning devices are already present on the railway networks of numerous countries: Belgium, Germany, Switzerland, Australia, Austria, Spain, Netherlands, Poland and the United Kingdom. Authorization of the Minimel Lynx model by our partner SNCF RESEAU will allow this equipment to be marketed in France for use on the French rail network (RFN).
Measurements performed directly on site
As part of this service, the AEF performed measurements in an anechoic chamber and in the open air to validate the two models of the audible unit, the EWK-L and the EWK-L-A. These tests are conducted to ensure that the sound emitted by the radio system is sufficiently loud so that the alarm transmitted by the equipment is audible whatever the position and distance of workers on the tracks.
Three types of measurements were performed to assess and validate the audible device:
Anechoic chamber measurements
The teams performed measurements in an anechoic chamber to create a calm environment, filtering out any external noise that could interfere with the measurements. The aim is to ensure that the warning device's acoustic reference level is 126 dB(A) and at least 95 dB(A) for systems adjustable from 1 metre away.
Frequential analyses were also conducted to check that the frequency components were between 300 Hz to 2500 Hz.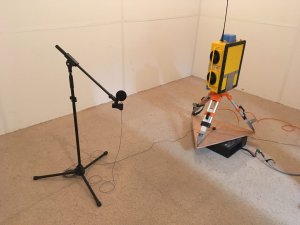 Open air measurements 
The AEF teams then performed noise decay measurements to characterize the sound propagation and ascertain to what extent the decay rate fell when the distance was doubled. Using a line of microphones, experts analysed and calculated the sound attenuation at a distance between 1 and 15 metres.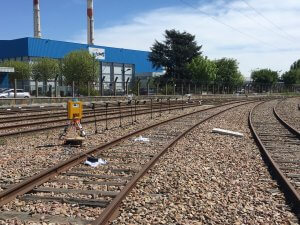 The sound levels emitted around the audible unit were also monitored and measurements were taken at 10° intervals in the 360° surrounding the warning system. These are called directivity measurements.
Upon completion of all these tests, a report summarizing the set of measurements and their results is written to determine the validity of the Minimel Lynx model and its authorization for marketing in France.