23 March 2022
TISSEO: Comparative Measurements on Two Generations of Rolling Stock
TISSEO, the company managing the public transport network in the city and region of Toulouse, has called on our partner, the Test and Measurement Laboratory (RATP GROUP), to perform measurements on two generations of VAL type rolling stock (VAL206 and VAL208NG). As part of investigations linked to failures found on VAL208NG current collector shoe equipment and guiding tyres, the teams of experts went out to the TISSEO maintenance workshop.
Several players involved in the project's preparation:
Several people from the RATP's departments were needed to work on this ambitious project. Railway Rolling Stock (MRF Department) and Track (RATP Infrastructures Department) experts contributed to the early stages of this project, helping to define the scope of the tests.
The importance of specifying the scope of a project:
Managing the scope of tests is an important component for the success of a project. It primarily helps to define the instrumentation that needs to be set up and all test configurations in order to meet the customer's needs. An initial key stage, enabling the RATP's departments to determine the parameters needed to perform the various measurements, included setting the position of guide bars and the travel speed of trainsets.
Defining the above two measurements is essential for assessing their influence on the rolling stock equipment instrumented for these tests.
Customized investigative tests:
TISSEO called on Eurailtest and the Test and Measurement Laboratory (LEM) for its mechanical testing expertise, skills and resources.
The purpose of these tests was to determine the parameters that influenced the mechanical behaviour of the components concerned, to compare the results obtained from the two generations of rolling stock and to identify the factors that might explain the failures found during operation by TISSEO.
To provide this service, experts from the LEM first instrumented a VAL206, a VAL208NG and the test track, primarily using cameras, accelerometers and displacement sensors. The measurements focused on a current collector shoe and a guiding tyre.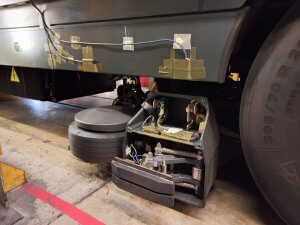 Both generations were instrumented identically to compare the measurements recorded.
Further testing continued on this installation by running the two trainsets at several speeds along the customer's on-site test track. Experts studied each speed level to assess its influence on the behaviour of the components studied.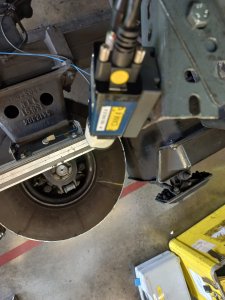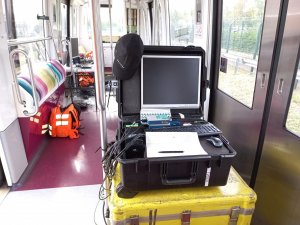 Cross tests!
In parallel with these tests, various guide bar settings were tested on a set of points to assess the influence of each setting on the stresses encountered by the rolling stock. The purpose of these tests was to check whether or not a change in the distance of the bar puts stress on the train.
Studying these measurements will help guide future decisions made by the public transport company regarding its new generation of rolling stock.