24 May 2021
Railway Expertise Applied to Defence
A railway-type facility for the Defence sector was under review. A major industrial group specialising in lifting and handling systems called on the expertise of Eurailtest and its partner, the Railway Test Agency Laboratory (SNCF Voyageurs), to perform non-destructive tests to assess the condition of the wheels on a particular vehicle.
Non-Destructive Tests to Determine the Vehicle's Condition
In April this year, the specialised industrial group called on the non-destructive testing capabilities and axle expertise of Eurailtest and its partner, the AEF. The objective was to identify any defects on the wheels of the vehicle caused by loads during service that could affect its compliance for use.
AEF experts therefore conducted a complete expert analysis of the wheels fitted to eight axles on various trailer bogies and two winch axles supporting a heavy load.
To perform this service, the AEF first conducted a visual expert analysis of the wheel tread-railhead to check for the presence of any impact, cracking, degradation or corrosion on each of the wheels.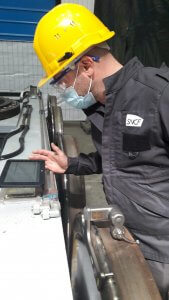 Upon completion of this visual inspection, profile measurements were then performed:
A circumference profile measurement to identify any defects in circularity, namely: radial-runouts, wheel flats, deflection, etc., using a comparator and an odometer. The measurements were analysed based on a set of reference criteria.
An axial profile measurement to reveal the wear on the wheel tread-railhead and wheel flange and to ensure good dynamic behaviour.
An internal health check conducted using equipment developed in-house by the AEF: the AQUASCAN is used to perform an ultrasound on the wheel tyre to identify any internal defects present in the equipment.
Once the tests were completed, all findings were summarised in a report to help determine the condition of the wheels. The AEF teams' involvement is further proof of their capability and their capacity to adapt to projects outside the railway environment and serves as a guarantee to customers of the high level of expertise.
The Word of an Expert!
"This amazing service was performed for the Defence sector on an industrial site facing the Ile de Ré, an unusual setting for our expert teams! The challenge was to adapt to the peculiar characteristics of this rolling stock: very low speed, heavy axle tonnage, winding track, transport of sensitive equipment, etc.
While understanding a new type of vehicle and adapting our expertise is always a challenge, it also plays an important role in enhancing and developing our expertise and range of skills."  Bastien Richard, Head of the NDT Centre of Expertise.