17 June 2020
Activity resumption: train tests are back on track!
For several weeks now, Eurailtest and its partner laboratories have been organizing their work to enable the resumption of their activity. Rolling stock tests and stationary tests could restart under appropriate conditions and in complete safety.
Eurailtest and Bombardier Transportation organize the restart of testings
This was done in close cooperation with all the stakeholders of each project.
Eurailtest and Bombardier Transportation restarted on Wednesday, May 20th, with a series of test activities that allow the delivery of trainsets. Thanks to the close cooperation between Bombardier and the test teams of Eurailtest, AEF and EAST (SNCF Voyageurs) could restart to operate under the best conditions after several weeks of shutdown.
Eurailtest and Bombardier worked together to make this takeover possible and to guarantee the safety of everyone in this context of COVID19:
A common protocol has been developed to ensure compliance with barrier gestures.
The logistical aspects have been anticipated and secured for all the personnel mobilized.
We welcome this collaboration, which will allow a safe recovery.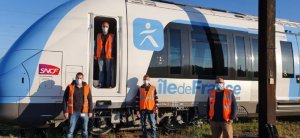 Eurailtest assists all of its customers to restart testing under the best conditions.